Barker Wellness - Review - Expires Soon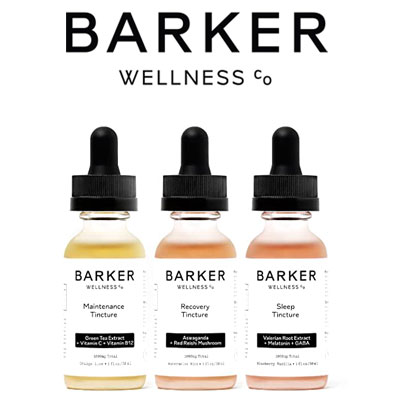 USE COUPONS
SAVE ON YOUR CBD PURCHASE
15% Off - Use Coupon Code
Barker Wellness is a vegan wellness brand based in the USA. The brand was founded by Travis Barker, who wanted to create a wellness brand that focused on creating all-natural, cruelty-free, and vegan products for people who want to benefit from natural wellness. Their line of CBD tinctures caught our interest so we decided to conduct a review of the brand for our readers.
Available Product Categories : CBD oils, Gummies, Topicals, Skincare, Inhalers, CBD pet products
Military Veteran Discount:
What we love about the Barker Wellness tincture range is that each oil is made with broad-spectrum CBD. This means you get all of the plant goodness from the oils (like terpenes and other phytochemicals), without the THC compound that can cause so many issues.
Our mission is to provide accurate, objective, and valuable content for CBD, which is why we're transparent about our review process and how we rate products and brands. We may receive compensation. Here's how we make money. Our review is consumer-focused only and we do not check or take a stand regarding medical effects. Statements regarding CBD products have not been evaluated by the Food and Drug Administration. Please advise your physician prior to each use of CBD.
{{ reviewsTotal }}
{{ options.labels.singularReviewCountLabel }}
{{ reviewsTotal }}
{{ options.labels.pluralReviewCountLabel }}