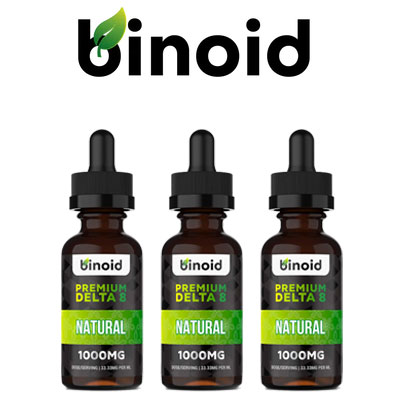 USE COUPONS
SAVE ON YOUR CBD PURCHASE
20% Off - Use Coupon Code
Binoid is a Los Angeles-based cannabinoid company that offers some of the most diverse cannabis products in the industry. Whether you're looking for CBD, delta-8 THC, THC-O, HHC, THC-P, or even THC-B (heard of that one yet?), Binoid has products for you to try. This brand sources its hemp from Oregon and has a state-of-the-art manufacturing facility that's cGMP and ISO Certified. Binoid even tests its own products five times before sending them off to a third party. Truly, the importance Binoid places on testing, safety, and product selection is beyond impressive.
Available Product Categories : CBD oils, Gummies, Topicals, Skincare, Inhalers, CBD pet products
Military Veteran Discount:
Binoid is a cannabinoid brand you can rely on day in and day out. You don't have to worry about purity or potency when buying, and you know you're purchasing from a reputable, trustworthy brand every time. Binoid has a huge selection of various cannabinoid products with potent effects ranging from mild to extra-strong.
Our mission is to provide accurate, objective, and valuable content for CBD, which is why we're transparent about our review process and how we rate products and brands. We may receive compensation. Here's how we make money. Our review is consumer-focused only and we do not check or take a stand regarding medical effects. Statements regarding CBD products have not been evaluated by the Food and Drug Administration. Please advise your physician prior to each use of CBD.
{{ reviewsTotal }}
{{ options.labels.singularReviewCountLabel }}
{{ reviewsTotal }}
{{ options.labels.pluralReviewCountLabel }}