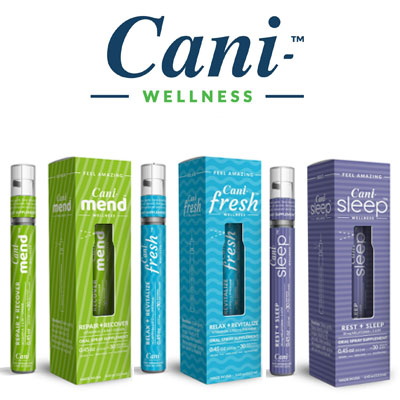 USE COUPONS
SAVE ON YOUR CBD PURCHASE
20% Off - Use Coupon Code
Cani-Wellness is an all-natural supplement brand that has tailored its attention and focus towards health-consciousness, thereby helping consumers look for healthy alternatives. They have through their several year's experience as a CBD company, developed, and have taken advanced formulations and super unique oral sprays to launch Cani Wellness. Cani Wellness also offers 4 distinct experiences for the different challenges customers may face throughout the day, Sleep, Mend, Fresh, and Boost.
Available Product Categories : CBD oils, Gummies, Topicals, Skincare, Inhalers, CBD pet products
Military Veteran Discount:
CaniBrands Inc. is a next-generation wellness products company specializing in manufacturing innovative formulations for sports recovery and active living. The company's brands, Cani-Boost™, Cani-Mend™, Cani-Fresh™ and Cani-Sleep™ are used by professional athletes, trainers and television personalities. An early entrant in the burgeoning CBD industry, CaniBrands recently expanded beyond CBD to the vitamin and supplement industry through its Cani-Wellness line of oral sprays. A trusted and recognized brand for the sport, fitness and wellness household, the company's goal is to help consumers worldwide
Our mission is to provide accurate, objective, and valuable content for CBD, which is why we're transparent about our review process and how we rate products and brands. We may receive compensation. Here's how we make money. Our review is consumer-focused only and we do not check or take a stand regarding medical effects. Statements regarding CBD products have not been evaluated by the Food and Drug Administration. Please advise your physician prior to each use of CBD.
{{ reviewsTotal }}
{{ options.labels.singularReviewCountLabel }}
{{ reviewsTotal }}
{{ options.labels.pluralReviewCountLabel }}