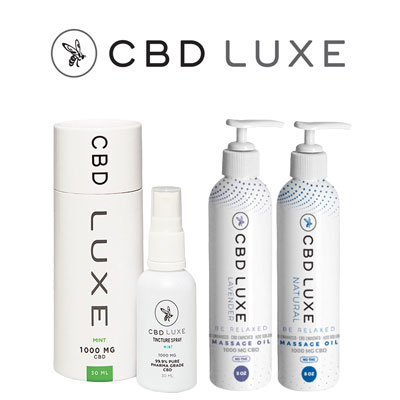 USE COUPONS
SAVE ON YOUR CBD PURCHASE
15% Off - Use Coupon Code
Former professional snowboarder William Spilo is the founder of Colorado-based CBD Luxe. Prior to the establishment of CBD Luxe, he broke his back at the age of 25 and had to undergo surgery to reconstruct both of his shoulders. Spilo eventually recovered; however, the chronic pain remained. He previously used nonsteroidal anti-inflammatory drugs (NSAIDs) of which, since 2015, was strongly opposed by the Food and Drug Administration. FDA strongly warned against the use of NSAIDs due to its inherent side effect of increasing risk to cause heart attack and stroke(1). Spilo then tried using CBD to alleviate the pain, and subsequently learned the therapeutic effects of CBD(2). He then ventured to establish CBD Luxe, and eventually partnered with B.E. Labs to improve the product and scale its production. Spilo is now advocating CBD with several athletes, particularly with NFL Legend Rob Gronkowski, to showcase the usefulness of CBD in pain management.
Available Product Categories : CBD oils, Gummies, Topicals, Skincare, Inhalers, CBD pet products
Shipments usually arrive in 3 to 5 business days
Yes, Reports available on the website
To receive a refund, returns must be made within 30 days of purchase.
Military Veteran Discount:
In summary, the company has some slicks branding and a decent variety of products. In particular, the inhalers are great to see. This innovative company is committed to maintaining rigorous pharmacological standards in order to deliver CBD products with good purity and quality.
Our mission is to provide accurate, objective, and valuable content for CBD, which is why we're transparent about our review process and how we rate products and brands. We may receive compensation. Here's how we make money. Our review is consumer-focused only and we do not check or take a stand regarding medical effects. Statements regarding CBD products have not been evaluated by the Food and Drug Administration. Please advise your physician prior to each use of CBD.
{{ reviewsTotal }}
{{ options.labels.singularReviewCountLabel }}
{{ reviewsTotal }}
{{ options.labels.pluralReviewCountLabel }}