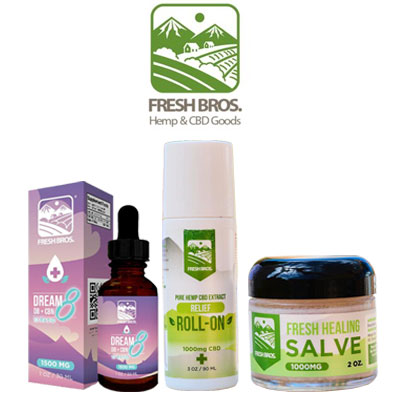 USE COUPONS
SAVE ON YOUR CBD PURCHASE
20% Off - Use Coupon Code
Fresh Bros is a company offering CBD and delta 8 THC products. This company is based in Las Vegas, Nevada, and was founded by Adam Rahman. Fresh Bros "aim to embody an active community with a holistic health vision," as stated on the company's about page. They're keen on providing innovative and reliable products for athletes and the general market in a completely transparent way. They claim to sell the freshest, healthiest, organically grown hemp products in the USA. With a team of athletes, innovators, consultants, manufacturers, and doctors behind the name, at first glance, Fresh Bros seems to be a trustworthy company that cares about the consumer.
Available Product Categories : CBD oils, Gummies, Topicals, Skincare, Inhalers, CBD pet products
Military Veteran Discount:
Fresh Bros is an up-and-coming company that seems to be on the right path but has some serious room for improvement. The company offers a range of innovative products and has more set to be released over the next couple of years.
Our mission is to provide accurate, objective, and valuable content for CBD, which is why we're transparent about our review process and how we rate products and brands. We may receive compensation. Here's how we make money. Our review is consumer-focused only and we do not check or take a stand regarding medical effects. Statements regarding CBD products have not been evaluated by the Food and Drug Administration. Please advise your physician prior to each use of CBD.
{{ reviewsTotal }}
{{ options.labels.singularReviewCountLabel }}
{{ reviewsTotal }}
{{ options.labels.pluralReviewCountLabel }}