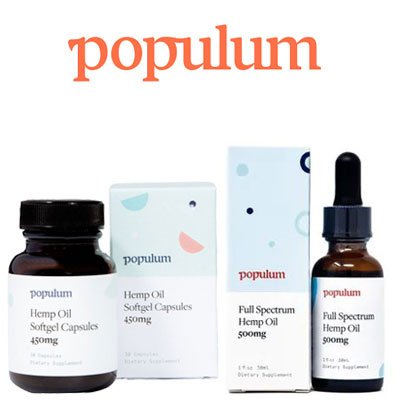 USE COUPONS
SAVE ON YOUR CBD PURCHASE
Populum was founded in 2016 by Gunhee Park and Ola Olusga. The company's ethos comes from the Latin phrase "ad populum" or "for the people," as it aims to bring the therapeutic effects of hemp closer to the masses.
Available Product Categories : CBD oils, Gummies, Topicals, Skincare, Inhalers, CBD pet products
Five to seven days for standard shipping; three to five days for expedited shipping
Yes, A physical copy of the lab report is included in each products' packaging
Items can be refunded within 30 days of order delivery
Military Veteran Discount:
Ethanol extraction process
Populum's efforts to de-stigmatize the hemp plant and spread awareness of CBD's health-promoting properties to the general public is evident in its streamlined product range and dedication to quality and transparency.
Our mission is to provide accurate, objective, and valuable content for CBD, which is why we're transparent about our review process and how we rate products and brands. We may receive compensation. Here's how we make money. Our review is consumer-focused only and we do not check or take a stand regarding medical effects. Statements regarding CBD products have not been evaluated by the Food and Drug Administration. Please advise your physician prior to each use of CBD.
{{ reviewsTotal }}
{{ options.labels.singularReviewCountLabel }}
{{ reviewsTotal }}
{{ options.labels.pluralReviewCountLabel }}