Prismatic Plants - Review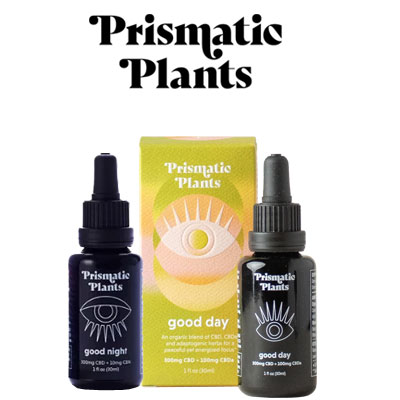 USE COUPONS
SAVE ON YOUR CBD PURCHASE
20% Off full size tinctures - Use Coupon Code
Prismatic Plants' mission is to combine traditional herbal medicine with the blossoming hemp market, a goal that's both intuitive and unique. By calling on master herbalists and doctors of chemistry, Prismatic Plants has crafted their two signature CBD tinctures: Good Day and Good Night CBD and essential oil blends. We appreciated how upfront Prismatic Plants is with their ingredients list. All ingredients are listed clearly so there's no question about what you're getting. In fact, if you want more depth, you can visit their website to get a full readout of each ingredient with scientific research articles posted as evidence. Prismatic Plants also takes the utmost care when sourcing their herbs. All herbs are organically and sustainably sourced. With so many questionable tinctures on the market, we found the quality of this research and effort refreshing.
Available Product Categories : CBD oils, Gummies, Topicals, Skincare, Inhalers, CBD pet products
Military Veteran Discount:
Overall, Prismatic Plants impressed us with their thorough research and creative combination of ingredients. The look and feel of the product is professional and sleek. Our only critique is the potent flavor, which isn't long lasting.
Our mission is to provide accurate, objective, and valuable content for CBD, which is why we're transparent about our review process and how we rate products and brands. We may receive compensation. Here's how we make money. Our review is consumer-focused only and we do not check or take a stand regarding medical effects. Statements regarding CBD products have not been evaluated by the Food and Drug Administration. Please advise your physician prior to each use of CBD.
{{ reviewsTotal }}
{{ options.labels.singularReviewCountLabel }}
{{ reviewsTotal }}
{{ options.labels.pluralReviewCountLabel }}