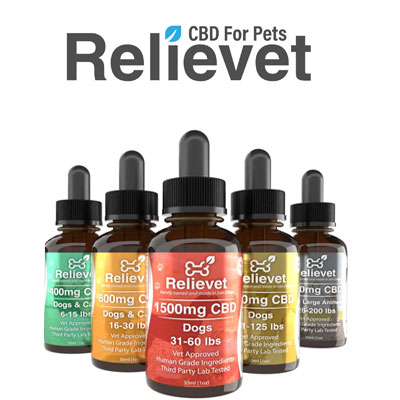 USE COUPONS
SAVE ON YOUR CBD PURCHASE
20% Off - Use Coupon Code
Relievet is a pet-oriented CBD company that provides pet owners with products they can trust. They earn the trust of their customers by using the highest-quality natural ingredients and thoroughly testing their products for safety and efficacy. They rely on years of experience working with animals in veterinary practices to fine-tune their formulas to ensure the optimal benefit. At Relievet, everything is made with 100% natural, organic hemp and all products are guaranteed crueltry free. This company takes their responsibility to provide safe and effective products seriously and they strive to provide the transparency pet parents need to make an informed decision.
Available Product Categories : CBD oils, Gummies, Topicals, Skincare, Inhalers, CBD pet products
Military Veteran Discount:
We love that Relievet offers four different concentrations of CBD oil and that their dosing instructions are very clear and easy to follow. While many CBD companies that offer products for pets don't alter their dosing instructions specifically for pets, Relievet offers dosing advice per 5 pounds of bodyweight which makes it easy to customize the dose for your cat.
Our mission is to provide accurate, objective, and valuable content for CBD, which is why we're transparent about our review process and how we rate products and brands. We may receive compensation. Here's how we make money. Our review is consumer-focused only and we do not check or take a stand regarding medical effects. Statements regarding CBD products have not been evaluated by the Food and Drug Administration. Please advise your physician prior to each use of CBD.
{{ reviewsTotal }}
{{ options.labels.singularReviewCountLabel }}
{{ reviewsTotal }}
{{ options.labels.pluralReviewCountLabel }}