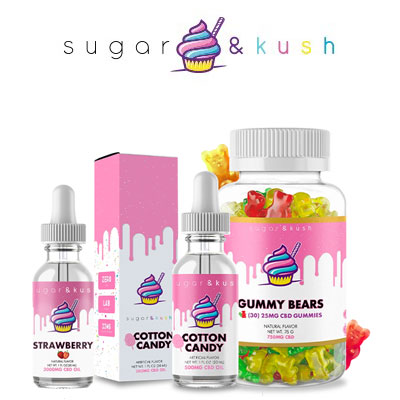 USE COUPONS
SAVE ON YOUR CBD PURCHASE
There are countless women dominating the cannabis industry, and Sugar & Kush is a prime example. Like many people that venture into the big business of CBD, the founders discovered the benefits of the non-psychoactive cannabinoid and knew they wanted to share what they'd discovered on a larger scale. Inspiration for the company itself came from Laura Brenner, who discovered at the age of 31 that she had Stage 3 ovarian cancer. She dedicated her life to educating herself on natural alternatives to restore her health…and found CBD to be a huge part of her recovery back to wellness.
Available Product Categories : CBD oils, Gummies, Topicals, Skincare, Inhalers, CBD pet products
Military Veteran Discount:
Sugar and Kush's CBD gummy bears are a traditional gummy bear with a kick of CBD. The professional presentation is a welcome change in a sea of similar products, as is the reliable effect. It can be difficult to walk the line between candy and supplement, and Sugar and Kush does so with aplomb. If you're looking for easy CBD dosing at home or on the go, these are a great option.
Our mission is to provide accurate, objective, and valuable content for CBD, which is why we're transparent about our review process and how we rate products and brands. We may receive compensation. Here's how we make money. Our review is consumer-focused only and we do not check or take a stand regarding medical effects. Statements regarding CBD products have not been evaluated by the Food and Drug Administration. Please advise your physician prior to each use of CBD.
{{ reviewsTotal }}
{{ options.labels.singularReviewCountLabel }}
{{ reviewsTotal }}
{{ options.labels.pluralReviewCountLabel }}