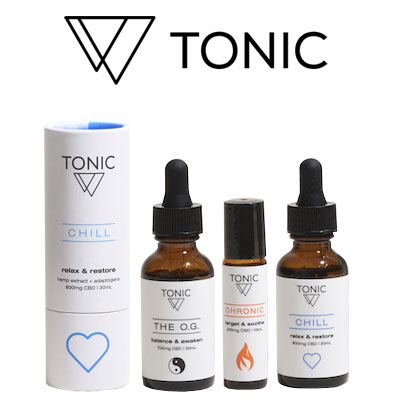 USE COUPONS
SAVE ON YOUR CBD PURCHASE
10% Off - Use Coupon Code
Tonic CBD is focused on conscious, sustainable CBD products. It was founded in 2017 by Brittany Carbone, who is both a personal trainer and health coach. She was seeking a natural way to address her anxiety and depression and used her knowledge of adaptogens, like ashwagandha, to create CBD adaptogenic blends. Her first steps involved researching the effect of CBD on the endocannabinoid system and its synergistic effects with adaptogens. By the end of 2017, she had convinced her family to start a hemp farm at their residence in New York, now known as Tricolla Farms. It became one of the first licensed private hemp farms in New York. In 2018, Tonic CBD moved from a home kitchen based company, to a manufacturing facility. And by 2019, the team grew to include six women and Tonic CBD became Brittany's full time career.
Available Product Categories : CBD oils, Gummies, Topicals, Skincare, Inhalers, CBD pet products
Military Veteran Discount:
They are extremely transparent on their website about their commitment to sustainable farming, using organic methods, and providing transparency at each and every step. They have easily scannable NFC codes on their products which link to their third party tests. However, some of their CBD level variances are much higher than the acceptable 10%. Plus, not all batches are tested for contaminants.
Our mission is to provide accurate, objective, and valuable content for CBD, which is why we're transparent about our review process and how we rate products and brands. We may receive compensation. Here's how we make money. Our review is consumer-focused only and we do not check or take a stand regarding medical effects. Statements regarding CBD products have not been evaluated by the Food and Drug Administration. Please advise your physician prior to each use of CBD.
{{ reviewsTotal }}
{{ options.labels.singularReviewCountLabel }}
{{ reviewsTotal }}
{{ options.labels.pluralReviewCountLabel }}