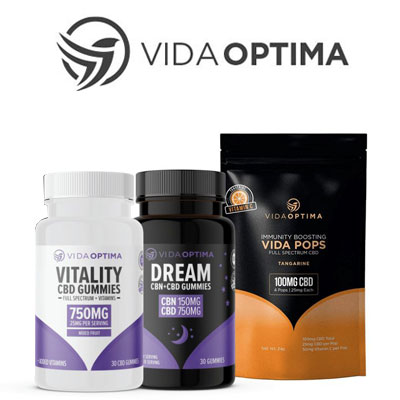 USE COUPONS
SAVE ON YOUR CBD PURCHASE
20% Off - Use Coupon Code
Vida Optima was founded in 2020 by the same creators of CBDOnly.com which reviews CBD products on the market. From their in-depth assessment of other CBD brands, they created CBD and other hemp-derived products that they believe excel in quality. Their company is based in San Diego, California. Although there is some background information about who they are, they do not have individual bios about who makes up the company The website's FAQ page has a handful of answers to questions about shipping, product information, and their membership program. They do have an extensive blog that has ample information about CBD, the endocannabinoid system and more. To contact their customer service, there is a phone number and message box on the website. Their message box is not instant messaging. It states that they will reply within a few hours or send you an email with the answer to your question.
Available Product Categories : CBD oils, Gummies, Topicals, Skincare, Inhalers, CBD pet products
Military Veteran Discount:
Vida Optima stands out for its use of organic and sustainable farming methods as well as its affordable prices. Compared to other brands, their price per mg of CBD is very competitive.
Our mission is to provide accurate, objective, and valuable content for CBD, which is why we're transparent about our review process and how we rate products and brands. We may receive compensation. Here's how we make money. Our review is consumer-focused only and we do not check or take a stand regarding medical effects. Statements regarding CBD products have not been evaluated by the Food and Drug Administration. Please advise your physician prior to each use of CBD.
{{ reviewsTotal }}
{{ options.labels.singularReviewCountLabel }}
{{ reviewsTotal }}
{{ options.labels.pluralReviewCountLabel }}