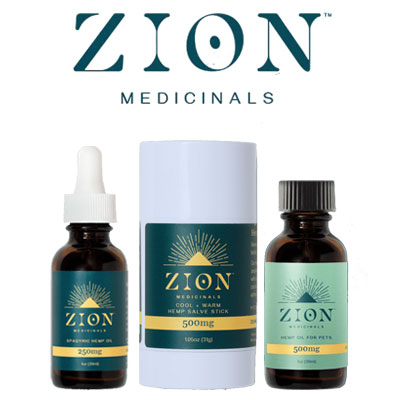 USE COUPONS
SAVE ON YOUR CBD PURCHASE
10% Off - Use Coupon Code
Brian Caruso founded Zion Medicinals. This was after his wife had chronic Lyme Disease. She also had chronic pain and insomnia, but most pharmaceutical drugs didn't seem to help. Brian decided to go natural and settled on both CBD oils and hemp oil. That's how he ended up coming up with his CBD brand – Zion Medicinals in mid-2017. As it is relatively new, there are not many details about this New Hampshire-based company. However, we can note that for the year or so they have been in business, we can note that they are making great strides. As of the moment, they use the Spagyric Extraction method to extract Zion Medicinals CBD oils from hemp plant matter. They have, nonetheless, explained this processing technique on their homepage. Unlike most CBD manufacturers who use modern extraction methods like CO2 extraction, Zion Medicinals is among those few who still adopt this old technique – Spagyric Extraction. We will see about the quality of their products after they use this extraction method later on.
Available Product Categories : CBD oils, Gummies, Topicals, Skincare, Inhalers, CBD pet products
Military Veteran Discount:
Zion Medicinals is an innovative CBD company that deviates from normal extraction methods and utilizes spagyric processing to obtain hemp products that offer more effectiveness.
Our mission is to provide accurate, objective, and valuable content for CBD, which is why we're transparent about our review process and how we rate products and brands. We may receive compensation. Here's how we make money. Our review is consumer-focused only and we do not check or take a stand regarding medical effects. Statements regarding CBD products have not been evaluated by the Food and Drug Administration. Please advise your physician prior to each use of CBD.
{{ reviewsTotal }}
{{ options.labels.singularReviewCountLabel }}
{{ reviewsTotal }}
{{ options.labels.pluralReviewCountLabel }}