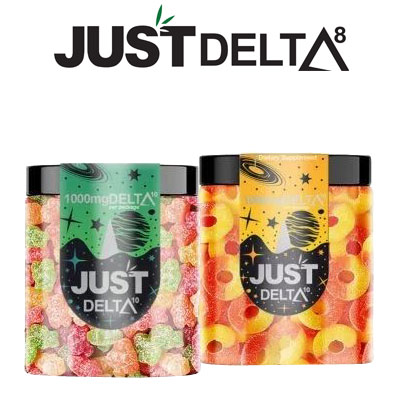 USE COUPONS
SAVE ON YOUR CBD PURCHASE
The brand is relatively new to the alternative cannabinoid scene, but its sister brand Just CBD has been around since 2017 and has an excellent reputation. Along with the fact the brand is a member of the U.S Hemp Roundtable – a grassroots initiative to partner with legislators and ensure that brands stick to a set of quality standards. Nonetheless, having only in 2021, there isn't a ton of info on the Just Delta brand itself. But, like Just CBD, they're based in Fort Lauderdale, Florida. Don't let their newness scare you. Just Delta offers an impressive THC and CBD hemp selection with a decent price tag. Backed by their friendly customer service and dedication to customer satisfaction, I am confident this brand is here to stay.
Available Product Categories : CBD oils, Gummies, Topicals, Skincare, Inhalers, CBD pet products
Military Veteran Discount:
Yup. Just Delta has an impressive product range that'll feel like you've shot into space. They make gummies, potent tinctures, cartridges, and drinks containing Delta 8 and Delta 10 THC. The company has also recently introduced a HHC line of edibles. Just Delta's wide variety of products extends to their flavor and strain offerings. Each cart and vape is available in a strain-specific sativa, indica, or hybrid. And the edibles are available in about five different flavors.
Our mission is to provide accurate, objective, and valuable content for CBD, which is why we're transparent about our review process and how we rate products and brands. We may receive compensation. Here's how we make money. Our review is consumer-focused only and we do not check or take a stand regarding medical effects. Statements regarding CBD products have not been evaluated by the Food and Drug Administration. Please advise your physician prior to each use of CBD.
{{ reviewsTotal }}
{{ options.labels.singularReviewCountLabel }}
{{ reviewsTotal }}
{{ options.labels.pluralReviewCountLabel }}