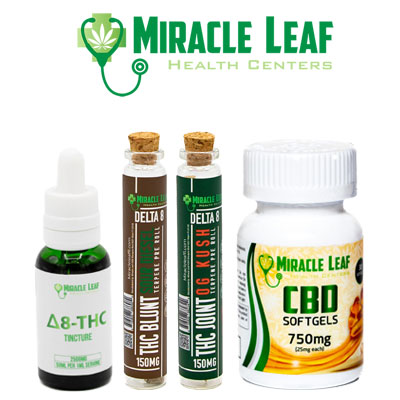 USE COUPONS
SAVE ON YOUR CBD PURCHASE
Miracle Leaf is an interesting CBD company in that it also functions as a health center. The brand is based in Florida and sells numerous CBD products. It also has a huge section dedicated to delta-8-THC. Unlike other CBD brands, it works closely with doctors and has an interest in medical marijuana. The state of Florida allows medical marijuana, but Miracle Leaf is unique in the way it sells it. The brand makes its products in the USA, in GMP-certified, FDA-compliant facilities. They use CO2 extraction, largely considered one of the best extraction methods for hemp. It's worth noting that Miracle Leaf does not clarify whether its products come from hemp or marijuana. Presumably, the brand uses hemp for its CBD products in order to make them as widely available as possible.
Available Product Categories : CBD oils, Gummies, Topicals, Skincare, Inhalers, CBD pet products
Military Veteran Discount:
All in all, Miracle Leaf is a decent brand. It's unique in that it offers MMJ services alongside both delta-8 and CBD products. It seems that the products are more popular than the telehealth services, but even reviews for the branded items are mixed. A huge plus point is Miracle Leaf's reasonable pricing. For those who want to try it out, it's possible to buy the products online from the brand's official website.
Our mission is to provide accurate, objective, and valuable content for CBD, which is why we're transparent about our review process and how we rate products and brands. We may receive compensation. Here's how we make money. Our review is consumer-focused only and we do not check or take a stand regarding medical effects. Statements regarding CBD products have not been evaluated by the Food and Drug Administration. Please advise your physician prior to each use of CBD.
{{ reviewsTotal }}
{{ options.labels.singularReviewCountLabel }}
{{ reviewsTotal }}
{{ options.labels.pluralReviewCountLabel }}