Penelope's Bloom - Review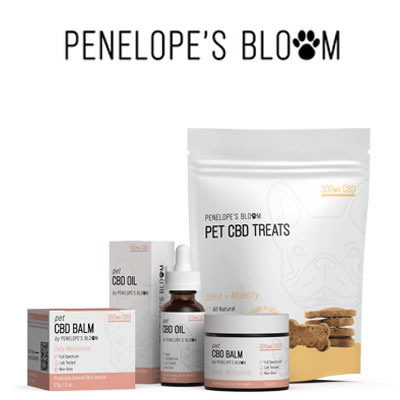 USE COUPONS
SAVE ON YOUR CBD PURCHASE
10% Off - Use Coupon Code
Like many great CBD brands, Penelope's Bloom CBD was founded through a truly heartwarming story involving a gorgeous little French bulldog named (yes, you guessed it) Penelope. When Penelope was just a pup she was diagnosed with a spinal condition, which caused a disc in her neck to rupture causing her chronic pain. Penelope's physical and mental health quickly became a priority in her mom's life and she started conducting rigorous research in order to find the best natural treatment for her moving forward, so that she might live a longer, healthier, and happier life. It was at this point that Penelope's adopted parent, Kerstin, was introduced to CBD and she was bowled over by just how much it was able to help Penelope's condition. However, she didn't find it easy to source clean, effective products, and immediately recognized a need for more high-quality CBD pet products on the market. And so the brand Penelope's Bloom was born, to help pet parents all over the USA access high-quality, clean, and affordable CBD products for their pets.
Available Product Categories : CBD oils, Gummies, Topicals, Skincare, Inhalers, CBD pet products
Military Veteran Discount:
We were really impressed with the quality, effectiveness, and affordability of Penelope's Bloom. As a loving pet owner, you want to make sure that you're giving your fur baby the best, but finding the extra cash needed when your pet gets sick isn't always easy. If you've been wondering if CBD can help your pet, or already use another brand, I'd recommend switching it up and giving this brand a try. Penelope's Bloom also offers a really good satisfaction guarantee, so you can try their products risk free!
Our mission is to provide accurate, objective, and valuable content for CBD, which is why we're transparent about our review process and how we rate products and brands. We may receive compensation. Here's how we make money. Our review is consumer-focused only and we do not check or take a stand regarding medical effects. Statements regarding CBD products have not been evaluated by the Food and Drug Administration. Please advise your physician prior to each use of CBD.
{{ reviewsTotal }}
{{ options.labels.singularReviewCountLabel }}
{{ reviewsTotal }}
{{ options.labels.pluralReviewCountLabel }}