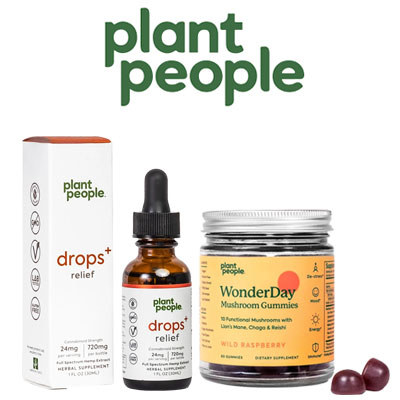 USE COUPONS
SAVE ON YOUR CBD PURCHASE
15% Off - Use Coupon Code
New York-based brand Plant People was born out of the shared experiences of its founders, Gabe Kennedy and Hudson Gaines-Ross, in surgeries, spinal injuries, and pharmaceutical medications. Since then, the brand has made it a mission to empower communities through the healing benefits of alternative plant-based medicines, such as CBD. Plant People also ensures the safety and potency of its products through clean and safe manufacturing practices and third-party lab testing.
Available Product Categories : CBD oils, Gummies, Topicals, Skincare, Inhalers, CBD pet products
Ships domestically via USPS and UPS Ground; international shipping is available
Yes, Reports available on the website
Items may be returned within 30 days of order delivery
Military Veteran Discount:
CO2 and ethanol extraction method
Plant People is genuinely committed to making a positive impact on its customer base by producing high-quality and thoughtfully curated products. It also values transparency to its customers through updated third-party lab test results and the inclusion of product ingredients on its website. The brand also aims to positively impact its community by giving back through tree-planting efforts.
Our mission is to provide accurate, objective, and valuable content for CBD, which is why we're transparent about our review process and how we rate products and brands. We may receive compensation. Here's how we make money. Our review is consumer-focused only and we do not check or take a stand regarding medical effects. Statements regarding CBD products have not been evaluated by the Food and Drug Administration. Please advise your physician prior to each use of CBD.
{{ reviewsTotal }}
{{ options.labels.singularReviewCountLabel }}
{{ reviewsTotal }}
{{ options.labels.pluralReviewCountLabel }}