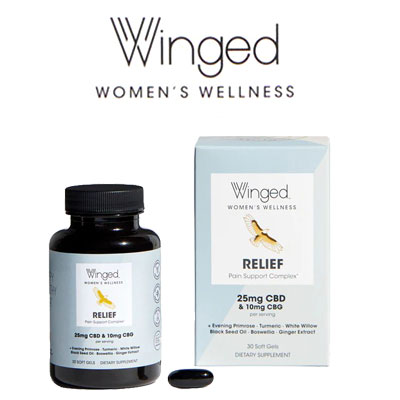 USE COUPONS
SAVE ON YOUR CBD PURCHASE
15% Off - Use Coupon Code
Winged Wellness was founded in 2017 by Jessica Mulligan and was specifically designed to target women and their daily health needs, with CBD products specially formulated as part of their mission to "help every woman feel good." According to the website, the idea for this type of unique CBD brand was born from the founder's personal experiences and dedicated research on plant-based medicines and nootropics. Statistically, women suffer from anxiety, depression, and insomnia at about twice the rate of men, but the intent and "Quality Promise" of this brand is to support women not only through their product line, but also through giving back to women-focused nonprofits and community groups
Available Product Categories : CBD oils, Gummies, Topicals, Skincare, Inhalers, CBD pet products
Military Veteran Discount:
Winged Wellness offers USDA certified organic hemp to create their full spectrum, CO2 extracted CBD products. They also use organic ingredients in their formulations. Winged Wellness is a female-led company and the nation's first CBD brand directly formulated and targeted to women and their specific needs. They also partner with various nonprofit organizations that empower women to give back to communities they serve. Winged Wellness offers a 30 day money-back satisfaction guarantee on all products, as well as gift cards and auto-ship options that save customers 15% off regular prices.
Our mission is to provide accurate, objective, and valuable content for CBD, which is why we're transparent about our review process and how we rate products and brands. We may receive compensation. Here's how we make money. Our review is consumer-focused only and we do not check or take a stand regarding medical effects. Statements regarding CBD products have not been evaluated by the Food and Drug Administration. Please advise your physician prior to each use of CBD.
{{ reviewsTotal }}
{{ options.labels.singularReviewCountLabel }}
{{ reviewsTotal }}
{{ options.labels.pluralReviewCountLabel }}