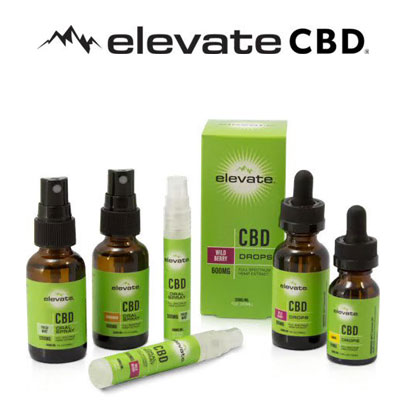 USE COUPONS
SAVE ON YOUR CBD PURCHASE
33% Off - Use Coupon Code
Elevate CBD is a CBD company that is dedicated to bringing people and pets high-quality CBD that has been created under the supervision and advice of experts in the field. Chiropractor, Dr. Paul Bove and pet trainer Nancy Cusick are specialists that are involved with testing and formulation of Elevate products. This brand is one of the first and only accepted into national Chain Drug Stores, Grocery Outlets, and Food/Healthcare Distributors.
Available Product Categories : CBD oils, Gummies, Topicals, Skincare, Inhalers, CBD pet products
30-day satisfaction guarantee
Military Veteran Discount:
Elevate offers a wide range of product types and flavors. Currently they have tinctures, capsules, gummies and other edibles, pet products, and topicals. Overall the website is very easy to use and well organized. Shopping and looking at product options is easy. However, when we reached out to customer service, we did not receive a response. Shipping is free for orders over $50 and they allow returns within 30-days of purchase..
Our mission is to provide accurate, objective, and valuable content for CBD, which is why we're transparent about our review process and how we rate products and brands. We may receive compensation. Here's how we make money. Our review is consumer-focused only and we do not check or take a stand regarding medical effects. Statements regarding CBD products have not been evaluated by the Food and Drug Administration. Please advise your physician prior to each use of CBD.
{{ reviewsTotal }}
{{ options.labels.singularReviewCountLabel }}
{{ reviewsTotal }}
{{ options.labels.pluralReviewCountLabel }}