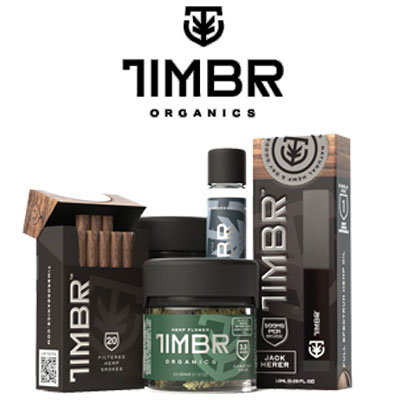 USE COUPONS
SAVE ON YOUR CBD PURCHASE
20% Off - Use Coupon Code
Based out of California, TIMBR Organics is somewhat mysterious. There is not much information on the website about who is behind the brand, where it sources the hemp, and what methods it uses to create its products. TIMBR Organics is one of the brands setting out to change the landscape of the cannabinoid market. It specializes in hemp flower, including raw flower, pre-rolls, and more. Vaping options are also available from this brand. Typically, reputable brands are quick to relay all this information to their prospective customers. However, TIMBR is a relatively new kid on the block, so perhaps the more detailed aspects of the brand will come to light in the future once it has found its footing.
Available Product Categories : CBD oils, Gummies, Topicals, Skincare, Inhalers, CBD pet products
Military Veteran Discount:
TIMBR Organics is an excellent brand to visit if you are seeking raw hemp products. While tinctures work great for some users, others prefer the natural flower. If this is the case, then it could be preferable to buy from a brand that specializes in smokeable hemp rather than adding it to their store as an afterthought. As a relatively new brand, TIMBR Organics has some way to go on the information front. Some customers prefer to know everything about a brand before they buy, including vital information such as where the hemp comes from.
Our mission is to provide accurate, objective, and valuable content for CBD, which is why we're transparent about our review process and how we rate products and brands. We may receive compensation. Here's how we make money. Our review is consumer-focused only and we do not check or take a stand regarding medical effects. Statements regarding CBD products have not been evaluated by the Food and Drug Administration. Please advise your physician prior to each use of CBD.
{{ reviewsTotal }}
{{ options.labels.singularReviewCountLabel }}
{{ reviewsTotal }}
{{ options.labels.pluralReviewCountLabel }}