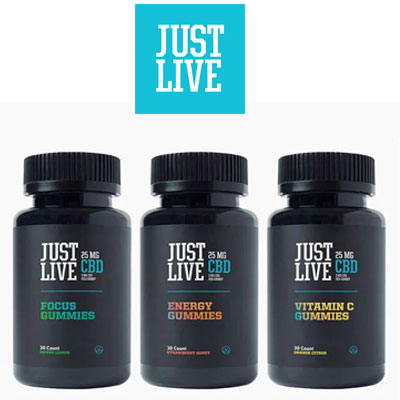 USE COUPONS
SAVE ON YOUR CBD PURCHASE
15% Off - Use Coupon Code
Just Live was the brainchild of four well-known professional athletes. Alex Morgan, Klay Thompson, Travis Pastrana, and Paul Rodriguez all came from various backgrounds including soccer, racing, skateboarding, and basketball. Looking for a way to naturally enhance their overall performance in their field, they turned to CBD products. Using their own specialized formula, the team decided to make it accessible for athletes around the United States. This led to the establishment of Just Live in the autumn of 2020. The brand focuses on creating supplements, topicals, tinctures, and other items that are formulated with only high-quality hemp. It's then refined to remove any traces of THC and to improve its overall effectiveness. Just Live Inc. states that they are fully transparent when it comes to sourcing and suppliers.
Available Product Categories : CBD oils, Gummies, Topicals, Skincare, Inhalers, CBD pet products
Military Veteran Discount:
To summarize our Just Live CBD review in only a few words, this is a brand that's all about quality therapeutic results. Every product we tried exceeded expectations; whether you're looking for something to help you sleep, ease stress, or to help recover from pain or muscle/joint soreness, these are 100% products that are worth checking out.
Our mission is to provide accurate, objective, and valuable content for CBD, which is why we're transparent about our review process and how we rate products and brands. We may receive compensation. Here's how we make money. Our review is consumer-focused only and we do not check or take a stand regarding medical effects. Statements regarding CBD products have not been evaluated by the Food and Drug Administration. Please advise your physician prior to each use of CBD.
{{ reviewsTotal }}
{{ options.labels.singularReviewCountLabel }}
{{ reviewsTotal }}
{{ options.labels.pluralReviewCountLabel }}