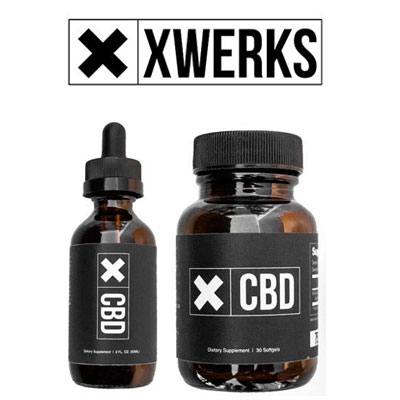 USE COUPONS
SAVE ON YOUR CBD PURCHASE
15% Off - Use Coupon Code
XWerks is a Florida-based supplement company making nutrition products designed to optimize performance and health. Carrying products like grass-fed whey protein isolate, creatine, and pre-workout supplements, XWerks has a firm grasp on the health and nutritional needs of athletes. It makes sense then, that XWerks has branched into the CBD world with two CBD products for the athletically inclined, or anyone who is looking to embrace total wellness with CBD. There are many effects of CBD that make it particularly useful in conjunction with athletic activity. CBD can be an alternative for treating muscle soreness, inflammation, and to help to repair damage from an aggressive workout. In fact, the U.S. and World Anti-Doping Agencies, in addition to several sports organizations, now allow athletes to use CBD both in and out of competition.
Available Product Categories : CBD oils, Gummies, Topicals, Skincare, Inhalers, CBD pet products
Military Veteran Discount:
While not an exclusive CBD brand, ex-works has the same ethics as we see in this industry. Sourcing all-natural ingredients to provide supplemental products that are geared towards your health and performance. Whether you're trying to build muscle or produce pre-workout energy, Xwerk has you covered.
Our mission is to provide accurate, objective, and valuable content for CBD, which is why we're transparent about our review process and how we rate products and brands. We may receive compensation. Here's how we make money. Our review is consumer-focused only and we do not check or take a stand regarding medical effects. Statements regarding CBD products have not been evaluated by the Food and Drug Administration. Please advise your physician prior to each use of CBD.
{{ reviewsTotal }}
{{ options.labels.singularReviewCountLabel }}
{{ reviewsTotal }}
{{ options.labels.pluralReviewCountLabel }}