Tillman's Tranquils - Review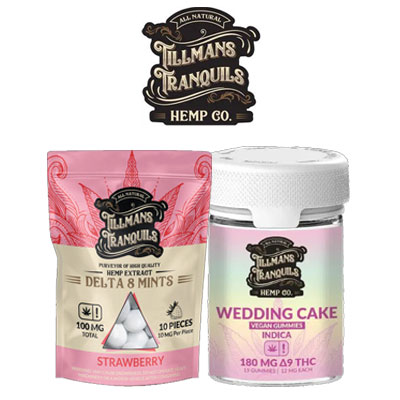 USE COUPONS
SAVE ON YOUR CBD PURCHASE
20% Off - Use Coupon Code
Tillmans Tranquils was launched in January 2019 with a line of peppermint flavored isolate CBD mints. A few months later, they changed the mints to a full-spectrum extract. Over the next two years, the company added a range of other products to its collection. Today, you will also find smokable flower and pre-rolls, as well as CBD hemp flower, cinnamon-flavored CBD mints, CBD gummies, CBG gummies, and a line of delta-8 products at Tillmans Tranquils. The company is passionate about the hemp plant and encourages finding a natural way to manage various ailments rather than using prescription medication. The company's specialty products are its mints. However, they also offer a wide range of other products. Tillmans is based in Fort Lauderdale, Florida, and claims to have developed the best tasting CBD mints on the market while using all-natural ingredients only. There is no mention on the website of who founded the company. However, according to LinkedIn, the man behind Tillmans Tranquils Hemp Co is Jason Brietstein.
Available Product Categories : CBD oils, Gummies, Topicals, Skincare, Inhalers, CBD pet products
Military Veteran Discount:
We love that Tillmans Tranquils has differentiated itself in the market by focusing on a few select products for different cannabinoids rather than specializing in a single cannabinoid, such as CBD. There are a few minor issues, like the lack of company information and a few missing lab reports. But for the most part, this appears to be a reputable brand with a good selection of high-quality hemp products.
Our mission is to provide accurate, objective, and valuable content for CBD, which is why we're transparent about our review process and how we rate products and brands. We may receive compensation. Here's how we make money. Our review is consumer-focused only and we do not check or take a stand regarding medical effects. Statements regarding CBD products have not been evaluated by the Food and Drug Administration. Please advise your physician prior to each use of CBD.
{{ reviewsTotal }}
{{ options.labels.singularReviewCountLabel }}
{{ reviewsTotal }}
{{ options.labels.pluralReviewCountLabel }}